Connection Couriers are leading providers of 
Driver CPC Training
.
Professional lorry drivers are legally required to hold a Driver Certificate of Professional Competence (Driver CPC) in addition to their vocational driving license.
Connection Couriers are a leader in the haulage and transport sector, consequently we can offer courses that are highly practical and relevant for your drivers since our experience is based on the real world rather than the classroom.
We have great flexibility in delivering the 35 hours (5 days) required to complete the
CPC Training
course.
Connection Couriers can deliver the training course with a wide range of flexible options e.g. five days spread over a year, focused 5 day intensive course or a combination of days at any one time to suit the demands of your business.
Driver CPC training is continuing professional development which carries on throughout a lorry driver's career.
Connection Couriers provide driver CPC approved periodic training courses and we are a JAUPT Approved Centre (AC00337)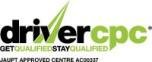 Please contact us for the next available training course
*All training courses are subject to availability
Connection Couriers also offer ADR Training (Dangerous Goods Transport) courses that provides you 21 hours (of 35 hours) for towards the CPC training qualification.
CPC Training

,